Corel VideoStudio is a video editing software package for Microsoft Windows, allows both storyboard and timeline-oriented editing. Using new Motion Tracking to follow moving objects on screen and attach graphics and text, the latest Corel VideoStudio X6, offer stunning Ultra HD video quality and striking visual effects.
Different formats are supported for source clips in Corel VideoStudio,including AVI,MPEG-1,MPEG-2, AVCHD, MPEG-4, Windows Media Format,MOD(JVC MOD File Format),etc.Beisides,VideoStudio also supports direct DV and HDV capturing to disk.
As far as we know, MXF is a "container" format used by professional camcorders and only a few high end software programs. None of the "user entry" video programs can handle MXF format. Corel video studio is not an exception for it cannot open the camera MXF file extension. That means Videostudio supporting formats do not include MXF files from Canon XF series, Panasonic P2 and Sony XDCAM MXF professional HD camcorders. If you own a HD camcorder and are used to Corel VideoStudio, it's really a big trouble for you.
Is there a professional solution to convert sony/canon/Panasonic MXF files to Corel Videostudio on Windows for further editing/transfer/improt MXF clips to Corel Videostudio.
Here special introduces MXF Video Converter- most popular camcorder video conversion software. This fully MXF support program can fast convert camera MXF files to Corel VideoStudio compatible video formats.Besides, Video Converter features of initial editing MXF video with trimming,cropping,watermark for Corel VideoStudio.
Step1: Copy MXF recordings to MXF Video Converter software.
Launch MXF Video Converter, click "add video" or drag and drop MXF files to the file area directly
Tips:
1. Panasonic P2 camcorders make the essence stored in separate files to the metadata. Move the separate P2 MXF video out of the whole MXF structure folder, the MXF video would be wrong without audio.
2. Canon make the essence (media) stored in the same MXF file as the metadata that refers to it. So Canon MXF can be separated for archiving.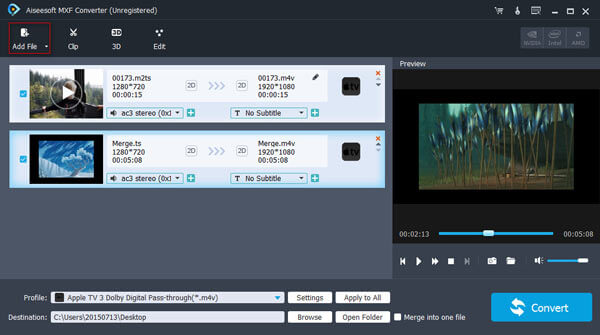 Step2: Select Windows-friendly format for Corel Videostudio.
Since Corel Videostudio accepts numbers of popular formats, you have quite a lot of choices. Here we transcode MXF content to WMV for Videostudio on Windows.
Step3: Set audio and video profile.
You can freely customize audio and video profile before you transcode MXF file to Corel Videostudio.For instance,you can set video size in range of 240*160 to 1920*1080.It is recommended to set video bitrate as high quality here.transfer/improt MXF clips to Corel Videostudio
Tip: Increasing the bitrate will typically increase the file size and quality. The output video quality mostly depends on raw camera MXF.

Step 4: Transcode MXF to Corel Videostudio compatible WMV
After conversion completed,you can preview the output MXF cnverted format video via the preview function of MXF Video Converter for Windows 8.
For the bridge effect of MXF Video Converter, now you can easily import MXF files to Videostudio on Windows.