MXF, short for material exchange format file, contains audio and video data as well as metadata that describe the media stored in the file, as indicated by the name, MXF file is actually a container, it is designed to standardize and facilitate the interchange of video between multiple vendors and platforms.
Unfortunately, if you are a fan of Edius, you might be disappointed with the dismay fact that it is rare that a P2 MXF video files can be smoothly imported to Edius, XDCAM MXF may be, but P2 definitely not. So what should do to solve this incompatibility issue? How to import P2 MXF files to Edius, how to convert MXF to AVI, MP4, formats that supported by Edius?
Here's a step by step guide about how to convert P2 MXF fiels to Edius.
First download MXF Video converter, a neat software that video converter that might outperform your expectation, it support to convert P2 MXF files to multiple formats, most popular ones like MP4 and AVI are certainly included.
Step 1: Install, and launch the MXF file Converter on your Windows 8/7/vista, then click the "Add" button to import the MXF files.
Step 2: Click "Format" column to choose best video format for output. If you want to get common MP4 files for playback, you can choose Common Video -> H.264 Video (*.mp4); if you want to get HD MP4 files to use, you can choose HD Video -> H.264 HD Video (*.avi).
Tip:
After you choose the output format, you can set MXF to AVI/MP4 Conversion Parameters by clicking the settings button in the main interface of the software. You can adjust the resolution, bitrate, codec as you need.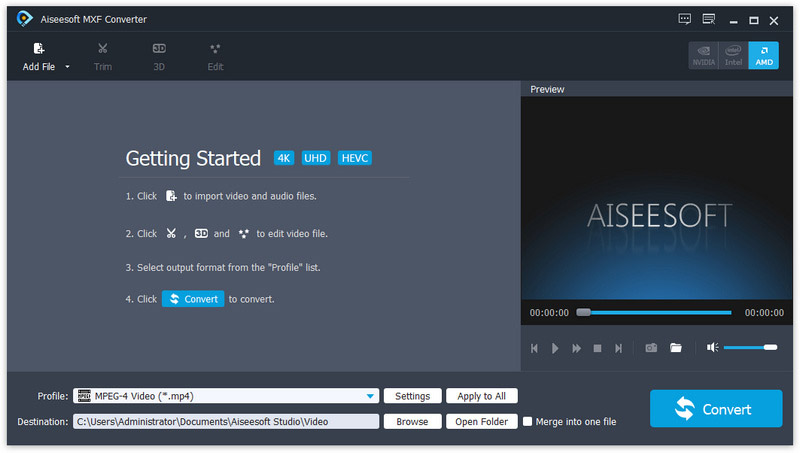 Step 3. Convert MXF to AVI.
Click the convert button under the preview window, the conversion from MXF to AVI starts immediately. With the default settings, the MXF Converter will deinterlace and remove interlacing artifacts.Now you can edit your P2 MXF files in Edius, enjoy!