Summary: What's the best way to import Sony PDW-850 XDCAM MXF footage to FCP X with ProRes MOV? If you are looking for an answer to this question, this post may shed you some lights on this. It explains how to transcode Sony PDW-850 XDCAM MXF files to Apple ProRes MOV for smooth editing in FCPX or its former version FCP 6 and FCP 7.
Being the successor of PDW-700 and PDW-F800, Sony PDW-850 XDCAM camcorder comes with the latest Power HAD FX CCD sensors and highly flexible multi-format recording capability. Users are able to choose a recording format between HD and SD. The PDW-700 is capable of recording MPEG HD 422 at 50 Mbps/MPEG HD 420 at 35 Mbps and 25 Mbps at 1080/59.94i/29/97p/50i/25p/23.98p and 720/59.94p/50p. It also records SD formats including MPEG IMX 50 Mbps and DVCAM 25 Mbps.
Cannot import Sony PDW-850 XDCAM MXF footage to FCP (X)?
Assuming you have import issues while loading PDW-850 XDCAM MXF footage to FCP (X) for post production, you will need to transcode PDW-850 MXF to an intermediate codec that FCP 7/6/X can handle well, such as Apple ProRes 422. That's where third party converter app comes in. Working as the best Sony XDCAM Video Converter, the MXF Video Converter for Mac is able to assist you to finish the PDW-850 MXF to ProRes 422 conversion.

Sony PDW-850 and FCP (X) workflow: convert PDW-850 MXF to ProRes MOV on Mac
1. Free download the the best Sony XDCAM MXF Video Converter. Install and run it. Click 'Add Video' to import your Sony PDW-850 MXF footage.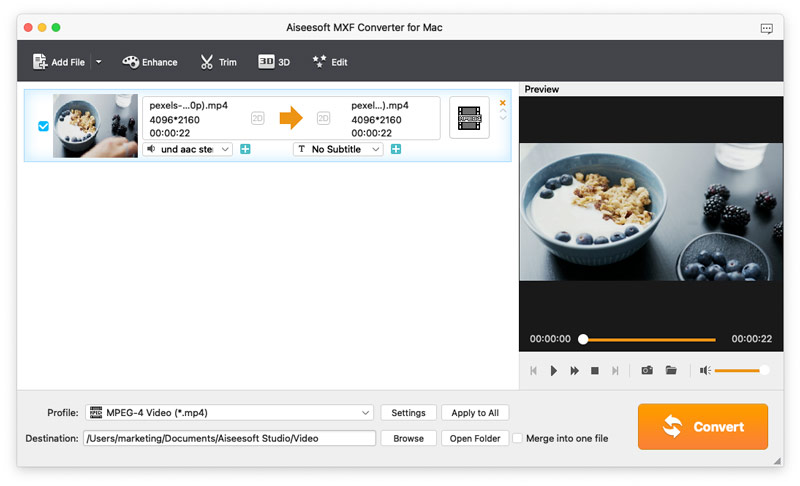 2. From the Format bar, choose 'Apple ProRes 422 (*.mov) as output format from 'Final Cut Pro' column. Apple ProRes 422 is the best suited editing format for using within Apple Final Cut Pro Version 6, 7, or FCP X. To create smaller files, transcode PDW-850 MXF files to Apple ProRes 422 (LT).
The Apple ProRes codecs maintain the highest quality and performance while requiring much less expensive editing and storage hardware (compared to uncompressed video). The Apple ProRes codecs produce video that is indistinguishable from uncompressed HD video and needs less storage space than uncompressed SD video.

3. (Optional) If you intend to modify video and audio settings in your own way, you can click on 'Settings' to do so. On the popup 'Profile Settings' panel, you are allowed to adjust video and audio parameters such as video codec, video bit rate, frame rate, audio codec, audio bit rate, sample rate and audio channels (up to 6 channels).
4. When ready, click on 'Convert' to start encoding PDW-850 MXF clips to Apple ProRes 422 MOV.
5. When the MXF footage transcoding process is complete, click on 'Open' button to get the generated ProRes 422 MOV files for use in FCP (X).