Summary: Read this guide to learn how to convert and transcode Sony MXF file to MPEG-2 video for further editing with After Effects CS4/CS5/CS6/CC without hassle.

As we all know, MXF becomes a popular file format as the development of the various camcorders, like Sony XDCAM, Panasonic P2 and Canon XF. However, using .mxf footage is not as easy as we think. This article I will concentrate on how to import MXF to After Effects. If you are planning to add some MXF clips to Adobe AE for further editing, just read on.
From Adobe official website, we can know MXF is a container format. After Effects can only import some kinds of data contained within MXF files. After Effects can import the Op-Atom variety used by Panasonic DV, DVCPRO, DVCPRO50, and DVCPRO HD video cameras to record to Panasonic P2 media. It can also import XDCAM HD files in MXF format. To import other type MXF files to After Effects for editing smoothly, a better way is to transcode MXF files to MPEG-2, which is a standard format for After Effects.
First of all, download MXF Converter for Windows.
It's a professional MXF Converter for you to convert MXF to MPEG-2 for After Effects or other editable video formats, such as WMV for Windows Movie Maker, AVI to Pinnacle Studio, MPEG for Adobe Premiere Pro/Sony Vegas, etc ensuring maximum editing quality and efficiency. In a word, this MXF Video Converter must be your best choice when you need a Panasonic P2 mxf Converter, a Canon mxf Converter or a Sony XDCAM MXF Converter. You can do action with mxf files at anytime anywhere now! For Mac user, please turn to MXF Converter for Mac, which can solve all the MXF incompatibility issues on Mac OS X.
Note: To convert MXF video you need to transfer the whole MXF file structure to HDD, because MXF systems produce split-file A/V (that is, the video and audio stored in separate files).
Step 1: Add mxf captured videos to MXF Video Converter.
Click "add video" button to import the sony mxf files to the top MXF to After Effects Converter. Click "add from folder" button to add MXF folder. The software will find corresponding audio content by itself and mix it to video during conversion.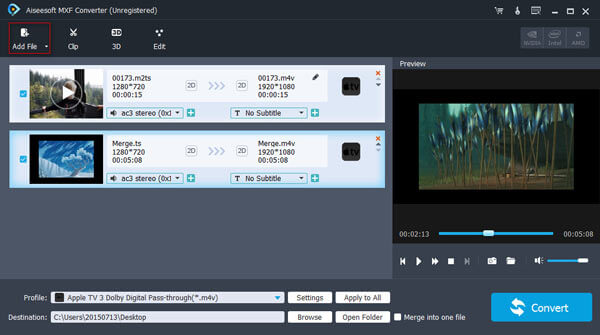 Step 2: Select output format for After effects.
Click "Format" bar and choose "Adobe Premiere/Sony Vegas > MPEG-2 (*.mpg)" as output format on the drop-down menu. Of course, you can also choose AVI, MP4 from "Common Video" as the output format.


Tips: Click "Settings", you can set bitrate and frame rate, audio sample rate and more if necessary.
Step 3: Start the MXF to MPEG-2 Conversion.
Click "Convert" to start converting Panasonic/Canon/Sony XDCAM MXF file for After Effects. After conversion, you can easily import the MXF to Adobe After Effects for editing keeping original quality without any trouble.