Material eXchange Format (MXF) is a container format for professional digital video and audio media defined by a set of SMPTE standards.MXF is a "container" or "wrapper" format which supports a number of different streams of coded "essence", encoded in any of a variety of video and audio compression formats, together with a metadata wrapper which describes the material contained within the MXF file.As of Autumn 2005, there were major interoperability problems with MXF in broadcast post-production use. The two data-recording camera systems which produced MXF at that time, Sony's XDCAM and Panasonic's DVCPRO P2, produced mutually incompatible files due to opaque subformat options obscured behind the MXF file extension. Without advanced tools, it was impossible to distinguish these incompatible formats.(From Wikipedia)
MXF is a file transfer format, MXF supports a number of different streams of coded. MXF is not a new topic for various HD Camcorder records videos in MXF. As you know, MXF footage is not the native format for Adobe Premiere Pro(like Adobe Premiere Pro CS4/CS5/CS6/CS7), The most common problem are no audio or audio out of sync. That's why I download the trial version of MXF Converter for Mac, which helps me import Canon/Panasonic/Sony MXF files into PPro CS6 with audio. I can view the videos with 5.1 audio entirely in the preview.
Below is a simple tutorial to convert MXF files into Adobe Premiere Pro with 5.1 audio. For Windows user, you can trun to MXF Video Converter for Windows.

For Windows
For Mac
Step1: Load MXF material to MXF Converter for Mac.
Click "add video" to load the 1080p, 1080i, 720p .mxf files into MXF Converter for Mac with the original video and audio. You can also directly drag .mxf files to the program. The program supports batch conversion and allows you capture images.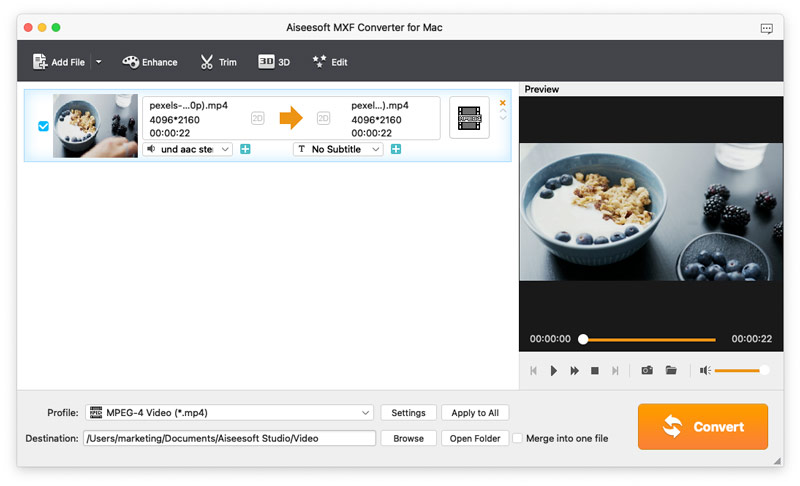 Step2: select output format for importing to Adobe Premiere Pro CS4/CS5/CS6/CC.
Click "Format" drop-down list to locate all the profile; choose the "Adobe Premiere/Sony Vegas -> MOV (AVC) (*.wmv) ". This option offers video profile optimized for NLE editing. You can also choose WMV and MPE-2 or QuickTime MOV.


Step3: Set audio and video profile for keep the highest quality audio.
You can click "Settings" to adjust video and audio parameters, including the Bitrate of Video and Audio, the Codec of Video and Audio, Video Size, Sample Rate, Frame Rate, Audio Channels(5.1 Channel audio), etc., in the Profile Settings to get MXF files converted with original quality. Our recommedation of the settings is shown on the screen shot.
Step 4: Start MXF to Adobe Premiere conversion.
Click "Conversion" icon that the MXF Converter for Mac will convert Panasonic/Canon/Sony MXF files into Adobe Premiere Pro CS4/CS5/CS6/CC with audio. With just a click on "Open", you can locate the export MOV quickly.If you want to import the .mxf files into After Effect, this MXF Converter for Mac also can help you.