Adobe After Effects is primarily used for creating motion graphics and visual effects. After Effects allows users to animate, alter and composite media in 2D and 3D space with various built-in tools and third party plug-ins, as well as individual attention to variables like parallax and user-adjustable angle of observation.Solve Audio Missing MXF in After Effects.
I am a photography enthusiast. And recently i got a Sony camcorder which output format is MXF. I want to have further my videos edited in Adobe After Effects.But I found the audios of my file missing when exporting. After searching on the internet, I found that because MXF is a container format. After Effects can only import some kinds of data contained within MXF files. After Effects can import the Op-Atom variety used by Panasonic DV, DVCPRO, DVCPRO50, and DVCPRO HD video cameras to record to Panasonic P2 media. After Effects can also import XDCAM HD files in MXF format.
According to this situation, I decide to first convert MXF to MOV for After Effects because MOV files can be both imported and exported in Adobe After Effects. And follow my friend's suggestion, I choose MXF Converter for Mac to Solve Audio Missing MXF to After Effects MOV. It is a fantastic converter which perfectly transcodes MXF files with 2, 4, 8 or more audio channels to MP4, AVI, MKV, MOV, ProRes. You don't need to worry about the loss of the sounds any more! Besides the conversion of Multi-track MXF videos, you may also convert MXF files to MKV, MP4, MOV, AVI, WMA, SWF etc for Final Cut Pro, iMovie, Premiere and countless video editing software and players! Below is a brief tutorial about how to solve Audio Missing MXF in After Effects.
Free Download:

Step 1: Import or drag MXF files to MXF Converter for Mac.
Start MXF Converter for Mac , and its clear instruction in the main interface will clearly show you the main function icon. You can add or drag the file or the folder to it without worrying about it not recognizing MXF files.
Tips: I recommend you to load MXF files from your camcorder first. Then you can add these files to the software. This is to keep the stability of importing files and prevent the conversion to break off.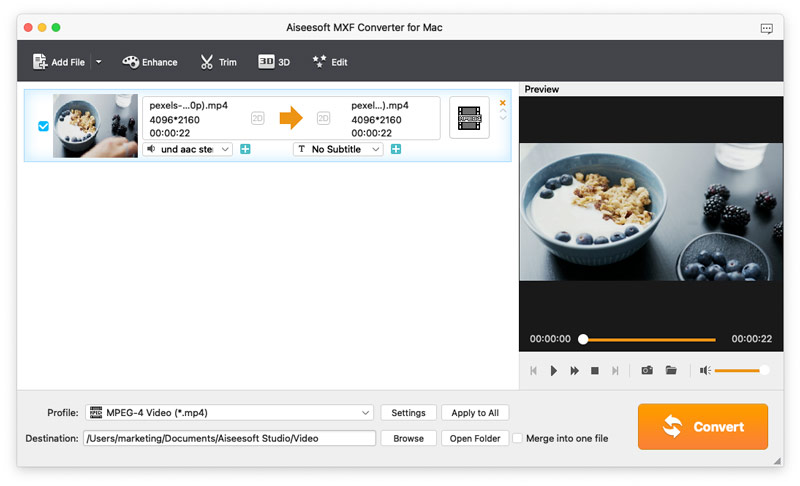 Step 2: Select MOV as the output format. It is in the common video and you can easily find it.
Click "Format" bar and choose "Adobe Premiere/Sony Vegas > MPEG-2 (*.mpg)" as output format on the drop-down menu. Of course, you can also choose AVI, MP4 from "Common Video" as the output format.


Step 3: Adjust the specific setting.
Click "setting" to adjust the specific parameters.
Tips: You may also change the codec, size, bitrate, frame rate, sample rate, and channels of the video and audio for your specific needs.
Step 4. Start the conversion from MXF to MOV in After Effects.
Click the yellow arrow icon to convert Audio Missing MXF to MOV. With just a click on "Open output folder", you can locate the export files easily.