The article shows you two ways to import Canon XF100 MXF fotoage into Final Cut Pro 7 or FCP X for smooth editing.
With every camcorder, comes many new questions about workflow. The term 'workflow' can be fairly broad, but today I am looking at importing Canon XF100 footage into Final Cut Pro. The XF100 utilizes Canon's XF Codec – a file-based MPEG-2 compression with an MXF File Wrapper (Which is also used in Canon XF300, XF305, XF105 and C300, C500) that ensures the widest compatibility with existing industry infrastructure, metadata and non-linear editing (NLE) systems. The codec's 4:2:2 color sampling provides ultra-fine transitions in tone and color for maintaining the highest image quality needed for advanced post production processing. The point here, many XF100 users especially the new users find it a painful experience and they often met problems when ingesting Canon XF100 movies to Final Cut Pro 7 or FCP X. Fortunately, there are some ways to fix the issues. Let's find them out here.


If you're editing Canon XF100 MXF footage in FCP 7 or FCP X, keep reading to find your best way.
Read More: Two Ways to Import Canon XF100 footage to Adobe Premiere Pro
Method 1: Using Canon XF Plugin
Prepararion:
latest Canon XF Plugin for Final Cut Pro, Canon XF Utility
Pros:
- Free
- Supports native MXF importing
Cons:
- Doesn't work well wtih 50Mbps (CBR) 4:2:2, 1920×1080, (60i/30p/24p)
- With a lot of steps
- May cause errors due to incompatible codecs
- Spends a lot of time
- Occupies a large amount of RAM
- Only available for Canon MXF files
Requires: Mac OS X 10.5.x or Mac OS X 10.6.x
I have to tell you the importing way is a tedious process, which needs your patience. If you haven't installed the above plugins, please download and install them. Click here to free download the latest Canon XF Plugin for Final Cut Pro.

For Canon XF Utility, you have to go to website to download by following the step: Open the Canon XF100 product page and click "Drivers & Software", choose your operating System and OS Version, then you will find the "Canon XF Utility 1.3.1 for Mac OS X" or "Canon XF Plugin for Final Cut Pro X 2.1.1″ in the "Software" category. Here, you also can free download the "Canon XF Plugin for Final Cut Pro 1.3″. Once plugins are all installed, you can follow the below parts to import Canon XF100 footage to Final Cut Pro 7 or FCP X.
Tip: Before downloading, please enter your product serial number with no hyphens "-".
Part 1. Back up Canon XF100 MXF footages with XF Utility:

1. Connect your XF100 camera to your Mac OS, you also can insert your CF card into your computer.
2. Launching the XF Utility, you will see your CF card showed up as the Canon drive and "Backup" in the upper left corner as the below picture.
3. Click Backup on the upper left corner, Canon XF100 MXF footages on the CF card will be backed up with the XF Utility.
PS: Before backing up videos, please make sure you have set the location to store your footage in the Preferences menu.
Part 2. Import the footages to Log and Transfer window:
1. Once your footage is saved with XF Utility, please run Loag and Transfer plugin in Final Cut Pro for rendering.
2. Click on the folder icon in the top left corner of the Log & Transfer window to load XF100 recorded HD MXF files you've soved.
3. Choose the editing format: Click on the small flower-shaped icon in the top middle of the Log & Transfer window, which will open the Import Preferences panel. You can choose ProRes or natvie format as the editing format.
Tips:
1) In general, you can smoothly edit native MPEG-2 MXF, but FCP is designed to work best in ProRes.
2) By default, Log & Transfer will either convert the footage to ProRes or just re-wrap clips into MOV format.
4. Click OK when you are done, and continue to import your footage by clicking Add Selection to Queue. Now your XF305 recording file is in FCP 7, you can freely editing.
Method 2: With MXF Converter
Prepararion:
MXF Converter for Mac($29)
Pros:
- Fastly convert MXF to ProRes
- Five types of ProRes for FCP
- It is also available for Sony and Panasonic MXF footages.
- Supports to transcode MXF to any other video format for all NLE's
- For all FCP 5/6/7/x users
- You can get 5.1 Channels
- Freely change video/audio settings
- Can keep original quality
- Save rendering time
Cons:
Not free
You can't edit native MXF files
For transcoding MXF for editing in Final Cut Pro 7/X, the best program I can recommend is MXF Converter for Mac. The excellent MXF conversion tool has FCP native profile with five types of ProRes codecs- ProRes 422, ProRes 422(LT), ProRes 422(HQ), ProRes 422(proxy), ProRes 444. And it allows you feeely change the video and audio parameters as you need, of course, it can keep the original quality for editing. I've used this tool for a long time rewrapping Canon XF100 and Panasonic P2 (AG-HPX300) MXF recordings for FCP 7 and Premiere Pro CS6. If you're editing MXF files with Final Cut Pro as well as Premiere Pro, iMovie, Avid MC, FCE or other non-linear Editing Systems, chances are you already installed this great utility. If not, download it from below.
Below is a step-by-step guide.
Step 1. Download, install and run the professional Mac Canon MXF to FCP Converter.
After connecting your Canon XF100 camcorder to Mac via USB, you can just drag and drop them to the program window. Or click "Add Video" to load mxf videos, otherwise you can "Add from folder" to load all the raw videos in .mxf format.
Note: Batch converting mode is supported, so you can add several files at a time.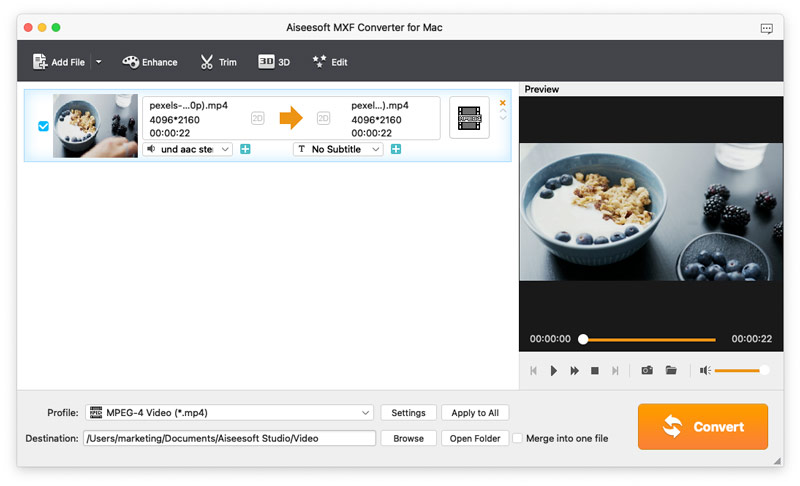 Step 2. Choose a kind of ProRes codec as the best output format from "Format> Final Cut Pro" menu.
Tips:
1) FCP 5/6 only support ProRes 422 and ProRes 422(HQ).
2) If need, you can click "Settings" to freely change the video and audio settings. To keep the best quality for editing, you'd better keep your original settings. For example, if your resource file is 1080 29.97p or 59.94i, you'd better select the video size as 1920*1080 and frame rate as 29.97fps.
Step 3. As soon as all things are ready, you can click "Convert" to begin the MXF to ProRes conversion.
After the conversion is over, click "open" to find the conveted video. Then open your Final Cut Pro, click "File >Import >Filles" to get ProRes .mov to FCP for freey editing. You also can directly drag and drop the generated file to FCP 7.
Additional Tips: If you want to transcode Canon XF100 MXF for Premiere Pro, please choose the "Adobe Premiere/Sony Vegas –> MPEG-2(*.mpg)" as output; For iMovie or FCE 4, choose the "iMovie and Final Cut Express -> Apple InterMediate Codec (AIC) (*.mov)". For Avid MC, choose "Avid Media Composer > Avid DNxHD(*.mov)"
Summary:
The first Method is a free work for all Canon users and it can make FCP edit the native MXF videos. If you think it is a tiring work or your computer doesn't support pulgins well, I believe the second way can easily solve the incompatible troubles. In a word, the post about how to importing Canon XF100 MXF to Final Cut Pro 7/X can give you a big help.