How to import Panasonic P2 Camcorder MXF videos to Sony Vegas for editing on Windows 8? We know that Sony Vegas support you to import AVCHD, WMV, MP4, MOV, Sony MXF, etc, but it not support Panasonic P2 MXF files. We know that there was other Camcorders also record video as the MXF format such as Canon XF series Camcorders. Why Sony Vegas don't support Panasonic P2 MXF but support Sony MXF?
Panasonic P2 MXF contains DVCPRO HD which is a proprietary Panasonic format (it is a competitor to Sony HDCAM) and from what I under stand, Sony and Panasonic lawyers can't agree on the terms under which to "share" this proprietary information so that Vegas can support it.
Learned for the reason, and next question is how to import Panasonic P2 MXF video to Sony Vegas on Windows 8? MXF to Sony Vegas Converter is a powerful MXF transcoding software which can convert Panasonic P2 MXF videos into WMV files and import it to Sony Vegas for perfect editing on Windows 8.
How to convert Panasonic P2 Camcorder MXF recordings to Sony Vegas WMV files on Windows 8?
Download and run Sony Vegas Converter, and you will see the friendly interface below:
Step 1: Add Panasonic P2 MXF files to MXF to Sony Vegas Converter.
Click "Add Video" button to add the video files that you want to import to Sony Vegas.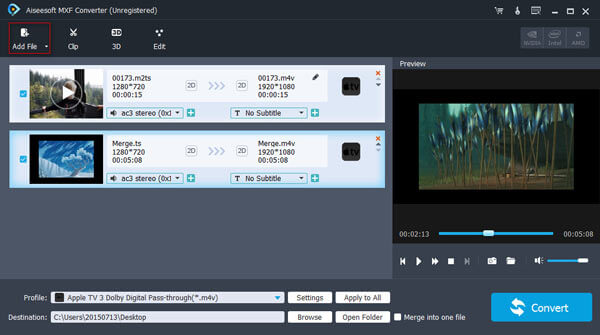 Step 2: Set the wmv as output format .
Click "Profile" drop-down list, and you can choose the format as "Adobe Premiere/Sony Vegas -> WMV(VC-1) Video (*.wmv)". And you can use the search function to search Sony Vegas to find the profile.
Tips: Click "Browse" button to set the output path.


Step 3: Clip Video with best quality video/audio.
Click "Setting" button to clip your video. You can preview the video, you can enter the start time number and end time number to get the video, or directly drag the start time button to set the start time and drag end time button to set the end time.
Step 4: Start to convert.
Click "Convert" button to start convert p2 MXF to Sony Vegas WMV files. After you get your videos, you can import it to Sony Vegas.
Using MXF to Sony Vegas Converter, you also can convert it to other video files for other popular editing software. MXF to Sony Vegas Converter is a powerful software which can help you to import besides of Panasonic P2 MXF but also other MXF files such as Canon XF Camcorders created to Sony Vegas for further editing.