MXF is in the process of evolving from standard to deployment. The breadth of the standard can lead to interoperability problems as vendors implement different parts of the standard. Sony's XDCAM MXF, Panasonic's P2 MXF, Canon MXF is used as the audio and video packaging format for Digital Cinema Package (DCP). It is also used in the STANAG specification documents.The file extension for MXF files is ".mxf". If you want to encode the .mxf files to mpeg-2 .mpg codec, just read on.
MXF Converter for Mac enables you to transcode MXF footage to mpeg-2 .mpg video codec easily. 4 steps solve your problem of encoding MXF files to MPEG-2, let's take a look!
Download a free trial for Mac or Windows version MXF to MPEG-2 Converter to evaluate if it is able to satisfy your expectation.

For Windows
For Mac
Step 1: load Panasonic/Sony/Canon MXF material to MXF Converter for Mac
Start the application, click "add video or drag MXF files into file area.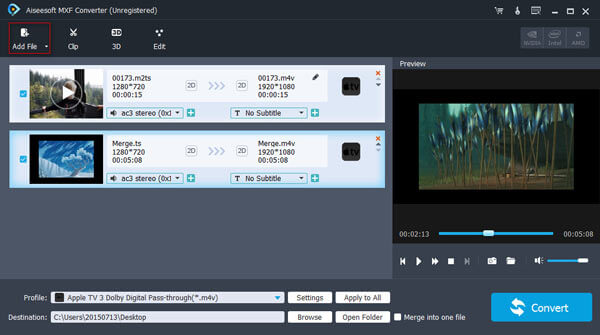 Step 2: select MPEG-2(*.mpg) output format
Click the "Format" option, and navigate the mouse cursor to Adobe Premiere/Sony Vegas > MPEG-2(*.mpg) as output format. If you get some interlacing 1080i MXF footage, just hit button "Editor", click "Effect" and tick the checkbox of "Deinterlacing" at the bottom of editor interface.


Step3: Set audio and video profile
The default profile will keep high quality of output MPEG-2 for editing or watching. You can click the triangle icon to open the options to set profile like video Bitrate.
Tips: if you have several MXF files, you can click orange triangle icon to view profiles of different task files.


Step 4: Click "Convert" icon to convert MXF to MPEG-2
After conversion completed, you can click "Open output folder" icon to locate the output MPEG-2 videos for editing or palying.