Sony Vegas Movie Studio HD 11 is digital video editing software with additional tools for professional-level sound design and more video effects and transitions. Creating spectacular movies in HD, enhancing multimedia projects with 400 exclusive music soundtracks and offering easily format movies for online sharing sites like Facebook, it takes HD video and audio production to the next level.
"I worked with Sony Vegas Studio HD Platinum 11. Last Year I buy a Canon C300 HD Camcorder (MXF file) I search on internet to try to find a tool to work wit Vegas studio" from a video professional.The above words are from a video professional. You may have the same necessary to edit MXF footage in Sony Vegas Movie studio. However, HD digital cameras like Canon XF series shoot mxf footage. To edit MXF files in Movie studio HD 11, you need to transcode MXF to favorable formats for Movie Studio. MPEG-2.mpg format is a common format for Movie Studio.

MXF Converter for Mac enables you to edit MXF footage in Sony Vegas Movie studio HD 11 easily. 4 steps solve your problem of importing MXF files to Movie studio, let's take a look!
Step 1: load Canon C300 MXF material to MXF Converter for Mac
Start the application, click "add video or drag MXF files into file area.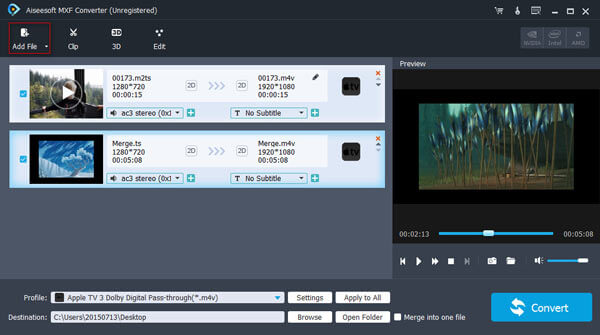 Step 2: select MPEG-2(*.mpg) output format
Click the "format" and choose the"Adobe Premiere/Sony Vegas -> MPEG-2(*.mpg)" files as the output favorable format for editing in Sony Vegas Movie studio HD 11.
Step3: Set audio and video profile
The default profile will keep high quality of output MPEG-2 for Movie studio HD 11. You can click the triangle icon to open the options to set profile like video Bitrate.
Tips: if you have several MXF files, you can click orange triangle icon to view profiles of different task files.


Step 4: Click "Convert" icon to convert Canon C300 MXF to MPEG-2
After conversion completed, you can click "Open output folder" icon to locate the output MPEG-2 videos for editing in Movie studio HD 11.
MXF Converter for Mac can also help you:
1. Ingest your MXF in iMovie, FCE, Avid, FCP on Mac
2. Preserve and mix multiple audio tracks in MXF files