iMovie is designed to work with a wide range of video recording devices, including camcorders, digital cameras, iPhone, iPad, iPod nano (5th generation), and iPod touch (4th generation). On iMovie Supported Cameras Page, Apple provides pop-up menus for user to find camera devices that are compatible with iMovie'11, but it's a pity to see that nearly all professional camcorders shooting footage in MXF format are not included in the qualified list, such as Canon XF series camcorders and Panasonic P2 card camcorders. That's why there are always users asking questions about how to import MXF/P2 MXF into iMovie for further editing. Let's see some examples together.
"I have MXF files downloaded directly from a P2 card (Panasonic HVX 300 in DVCProHD 720p 30p) onto an external hard drive, and need to convert them to Quicktime for editing in iMovie. The only converter I have found is something from *** which does not recognize the MXF files at all, so is basically useless. Any suggestions?"


"I want to import Canon XF100 .mxf files into iMovie, the files inside the folder are
.sif
.mxf
.xml
.thm
.cif


I know that using Log & Transfer  is how Final Cut Pro brings the MXF footage in. FCP reads the MXF files, and then re-wraps them into a QuickTime wrapper…most often converting MXF to Apple ProRes at the same time.  This is how Final Cut Pro works with the Canon XF cameras. But it seems there is no way to do that in iMovie, any help?"
Mac MXF to iMovie Converter is highly recommended to solve the above mentioned two questions. Within 4 simple steps, you can finish MXF/P2 MXF to AIC MOV conversion for editing with iMovie.
Step 1: Click "Add" button to load .MXF clips captured by a Canon XF100 or a Panasonic AG HVX200A
Step 2: Click Format menu to select "Apple InterMediate Codec (AIC) (*.mov)" as target format from "iMovie and Final Cut Express" option.
Step 3: Click the big button "Convert" to start converting MXF to AIC for iMovie editing.
Step 4: Click "Open" button to get the converted AIC MOV files for using in iMovie.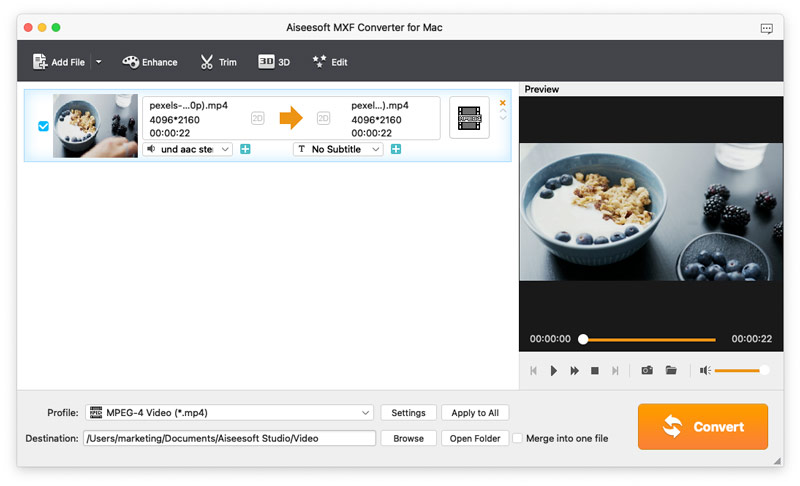 Note:
The professional Panasonic P2 (also MXF) camcorders store each track of video and audio in separate files. The P2 card lays out all audio tracks under the CONTENTS/AUDIO/ directory and all MXF video tracks under CONTENTS/VIDEO/ directory. While importing MXF clips to MXF to AIC converter for conversion, please make sure you have the original MXF file structure as it saved on your camcorder. If you only have some random .MXF clips, your files will have image only without audio. See MXF file structure on Panasonic's P2 card as below.