Here I share with you two ways on how to transcode and import Canon EOS C300 MXF footage to Premiere Pro CS5/CS6/CC. Keep reading for a brief how-to on each process.
Canon C300 is not a new camcorder. Due to its advantage fo using the latest HD technology–along with Canon's newly developed MPEG-2 4:2:2 codec–to record Full HD video to widely available Compact Flash cards, many users are still new to it. The point here, Many users find it a painful experience and they often met problems when importing Canon C300 movies to Premiere Pro CS5 or Premiere Pro CS6 or Adobe Premiere CC. There are some frequently asked questions quoted as below:
"I thought the original file (from Canon C300) be okay for Premiere CC, but i get messages about unknown compression format. Please inform me about the compatible format i must use for editing in Premiere CC."
"Hey, I recently got a Canon C300 and Ive been import the footage by copying the .mxf files from the card to my hard drive then imoprt it to PP CS6. Just wondering if any one has a better workflow?"
As far as I know, there are two ways to import Canon C300 recordings to Premiere Pro CS5/CS6/CC. Both the following workflow will do the trick:
Read More: How to Import Canon C300 mxf footage to Final Cut Pro with Canon XF Plugin ?
Method A: Using Canon XF Utility
Canon provides a piece of software called the Canon XF utility, which is used to playback and download clips off their original media. It also has the ability to view clip metadata, mark timecode, and even apply a LUT to Canon Log footage for viewing. The XF Utility is available for download here on Canon's site. You can use the Canon XF Utility to create a single MXF file of your spanned clips on the memory card and import the new file into the project.
Tip: Before downloading, please enter your product serial number with no hyphens "-".
Pros:
- Free
- Supports native MXF importing
Cons:
- Doesn't work well wtih 50Mbps (CBR) 4:2:2, 1920×1080, (60i/30p/24p)
- With a lot of steps
- May cause errors due to incompatible codecs
- Spends a lot of time
- Occupies a large amount of RAM
- Only available for Canon MXF files
Part 1. Back up Canon C300 MXF footages with XF Utility:

1. Connect your C300 camera to your Mac OS, you also can insert your CF card into your computer.
2. Launching the XF Utility, you will see your CF card showed up as the Canon drive and "Backup" in the upper left corner as the below picture.
3. Click Backup on the upper left corner, Canon C300 MXF footages on the CF card will be backed up with the XF Utility.
PS: Before backing up videos, please make sure you have set the location to store your footage in the Preferences menu.
Part 1. Import Canon C300 projects to Premiere Pro
To bring your Canon C300 footage into Premiere Pro (Here I take Premiere Pro 5.5 as example), you don't need any special software. Premiere supports a huge range of formats without any plugins. To start, launch Premiere and make a new project.

Select 'New Project,' and then choose your settings to get going.

Select from the Canon XF MPEG2 drop down menu, and choose the format in which you shot. I shot in 1080 24p. Click 'OK,' and Premiere will open up. To import clips visit the "Media Browser" window, which is normally found in the lower left corner of Premiere. Otherwise you can open it by going to Window -> Media Browser. In the Media Browser locate your clips:

Choose the folder with your C300 footage into Premiere Pro and Media Browser will allow you to view your clips. Media Browser assembles any spanned clips as well. Bring the clips that you wan to import into your project by either dragging them into the project window, or choosing File -> Import from Media Browser. Premiere will look through the folder for anything it can bring in, but because it only reads the actual Canon MXF files you will get some errors. Now your clips are in Premiere and ready to edit, special thanks to Adobe for helping get this right.
Method B: With MXF Converter
Prepararion:
MXF Converter for Mac($29)
Pros:
- Fastly convert MXF to Premiere Pro
- Three types of outputs for Premiere
- It is also available for Sony and Panasonic MXF footages.
- Supports to transcode MXF to any other video format for all NLE's
- For all Premiere Pro CS5/CS5.5/CS6 users
- You can get 5.1 Channels
- Freely change video/audio settings
- Can keep original quality
- Save rendering time
Cons:
Not free
You can't edit native MXF files
Read More: Why MXF files not reading in Premiere Pro CS6

To solve the incompatible trouble you'd better change Canon C300 MXF a native format for importing to Premiere Pro CS6. To get the best quality with 5.1 sound, you can transcode MXF to MPEG-2 encoded MPG files, which maintains maximum editing quality and efficiency when working with Premiere Pro. If you also want to play it with QuickTime, you can reformat C300 MXF to MOV videos. If you want to get a smaller file for quickly editing, you can encode Canon C300 MXF to WMV.
To get the work done, MXF Converter for Mac is the best choice for you. It's an easy-to-use yet powerful high-quality MXF converter, player and editor which is compatible any Mac OS system. I've used this tool for a long time rewrapping Canon C300 and Panasonic P2 (AG-HPX300) MXF recordings for Premiere and Avid MC. With it, I can effortlessly transcoding MXF files for smoothly editing in Premiere Pro CS6. If you're editing MXF files with Premiere Pro, Final Cut Pro, iMovie, Avid Media Composer, Final Cut Express, chances are you already installed this great utility. If not, download it from below. If you're using a Windows (Windows 8/Windows 7/Vista/XP) PC, download the Windows version below. The workflow for encoding C300 MXF to Premiere Pro CS6 is the same.
For Mac
For Windows

Here is a step-by-step guide:
Step 1: Download, install and run the professional Mac C300 MXF to Premiere Pro Converter.
After connecting your Canon C300 camcorder to Mac via USB, you can just drag and drop them to the program window. Or click "Add Video" to load mxf videos, otherwise you can "Add from folder" to load all the raw videos in .mxf format.
Note: Batch converting mode is supported, so you can add several files at a time.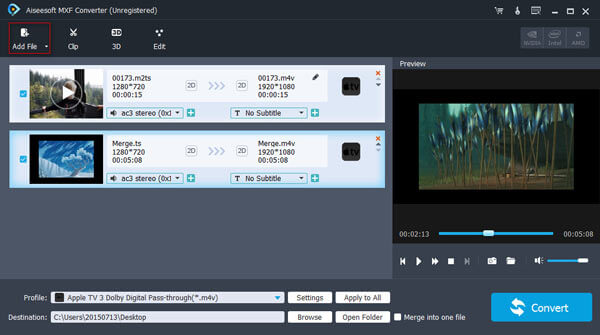 Step 2: Click "Format" bar and then move your pointer Adobe Premiere/Sony Vegas –> MPEG-2(*.mpg) as target format. Besides, you can also choose WMV (VC-1) (*.wmv) if you want to get a relatively smaller output file.
Tip: In case the default settings do not fit your requirement, you can click "Settings" button and enter "Profile Settings" panel to adjust video size, bit rate, frame rate, sample rate and audio channels.


Step 3: Click Convert button to start transcoding MXF to MPEG-2 for Premiere CC on Mac OS X.
Once the conversion completes, you can click "Open" to find the .MPG videos which can be directly imported to Premiere Pro. You've done. As you see, now you can import and edit Canon C300 MXF files in Premiere Pro CS5/CS5.5/CS6 without any problem.
If you want to edit Canon MXF media in Final Cut Pro, please choose the "Final Cut Pro > Apple ProRes 422 (*.mov)" as output; For iMovie or FCE 4, choose the "iMovie and Final Cut Express -> Apple InterMediate Codec (AIC) (*.mov)". For Avid MC, choose "Avid Media Composer > Avid DNxHD(*.mov)"
Summary:
The first Method is a free work for all Canon C300 users and it can make Premiere Pro edit the native MXF videos. If you think it is a tiring work or your computer doesn't support pulgins well, I believe the second way can easily solve the incompatible troubles. In a word, the post about how to importing Canon C300 MXF to Premiere Pro can give you a big help.