When you back up footage shot on a P2 card on Panasonic's DVCPRO to your PC, everything else from the card backed up fine except all these MXF files.(P2 MXF from Panasonic HVX-203/HPX300/HPX-310/HPX-2100/AJ-HPX2700, AG-HPX370, AJ-HPX3100, AJ-HPX3700, AG- HPX170, AG-HPX500, AG-HVX200, AJ-HPX2000, AJ-HPX3000 .etc) And P2 MXF video format came from Panasonic Camcorder is a special format.  After Panasonic recording the .mxf videos, you may realize that a conversion program is need to burn a DVD of the video files. There are many free burning applications, and  the basic one is Windows DVD Maker. However, it does not work properly with the .mxf files. MXF Video Converter is the recommended converter for putting mxf videos to DVD Maker.
Here is the quick step-by-step guide for you to convert/transcode Panasonic MXF videos to WMV for Window DVD Maker to burn and author DVD on Windows XP, Windows Vista and Windows 7.
Step 1. Import Panasonic .mxf videos to MXF Video Converter.
After copying P2 card on Panasonic's DVCPRO .mxf videos to hard drive, just run MXF Video Converter as the best mxf to dvd maker converter, and click the Add button to load .mxf videos.
Step 2. Choose WMV output format.
Click the "Format" option and choose Common Video > WMV3 (WMV9)(*.wmv) for conversion. To get high quality video, you can click the Settings button and make sure the original option is used for the Bit rate option.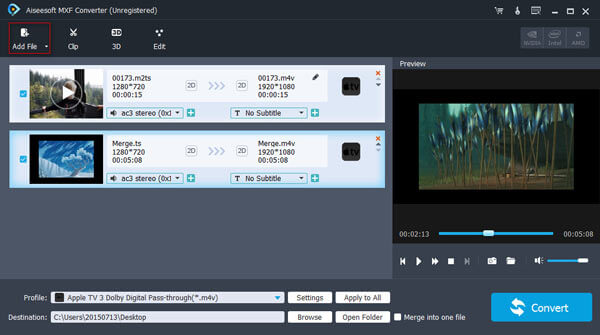 Step 3. Deinterlacing MXF files.
You don't want to see your video with lines on it. Please click "Edit" to get into editor windows and then click on " Effect" function, you will see a Deinterlacing staying there, just check the box of "Deinterlacing" to remove interlacing artifacts from your MXF videos.
Step 4. Convert MXF to WMV for DVD Maker.
Click the convert button below the preview window, and the MXF video converter will start converting MXF to WMV for Windows DVD Maker.
Step 5. Author/Burn converted MXF videos to DVD.
When the conversion is done, just insert a blank DVD disc to your DVD-RW burner, and click "Add items" on Windows DVD Maker to import the .wmv videos. Click the "Next" button to choose DVD menu style and start burning recorded videos to DVD disc.


It is so easy to put mxf videos to Windows DVD Maker for burning DVD. If you do not have Windows DVD Maker, just use ImgBurn for Windows XP.
Tips:
This MXF Converter also can convert Canon XF300, XF105 .etc Canon .mxf files. It can convert MXF to MOV, convert MXF to AVI, convert MXF to MPG, convert MXF to MPEG, convert MXF to MP4, convert MXF to DV, etc with perfect quality and without audio syncing problems for Adobe Premiere, Sony Vegas, After effects, Kdenlive, Premiere Elements, Magix Video PRO, Pinnacle Studio,Windows Live Movie Maker , Windows Movie Maker .etc Windows editing software on Windows XP, Windows Vista , Windows 7.

Price:$29.00