P2 MXF files are OP-Atom (MXF Operational Pattern Atom), where each track of video and audio are stored in separate files. This complicates the housekeeping of the files since steps must be taken to ensure related tracks are kept together when files are moved or copied. The P2 uses a 6-character identifier in the filename of all related files.
P2 card: A solid-state memory card for recording DV, DVCPRO, DVCPRO 50, DVCPRO HD, and AVC-Intra media within MXF container files.
The footage shot onto a P2 card in DVCPRO (HD) with Panasonic Camcorders such as AG-HVX200, AG-HPX300, AG-HPX170, AJ-HPX3700, AG-HPX500 etc are normally save as MXF files. These files, usually known as P2 MXF file for short, are not naturally supported by most media players and editors. When importing the P2 MXF files for playing back or editing, you probably will get an error message. Here I would like to share with you a video trans-coding tool to help you solve the problem—the MXF Video Converter, which can be used as a MXF to MKV converter as well. With this application you can convert P2 MXF to MKV and various other video formats easily. Audio track can be extracted for collection too.
You may download the trial version of the HD Converter and give it a shoot. There is not any time limitation, but please note that the trial converts video with a logo watermark on the screen. Now please refer to the following guide how to convert Panasonic MXF to MKV with MXF Video Converter.
Step 1. Import P2 MXF to the powerful MXF Converter.
Run the MXF to MKV Video Converter, click "Add" button and browse to the MXF files you'd like to convert, click "Choose" to confirm.
When the MXF files are loaded to the program, you can view the videos from the Preview window. Simply select an item and click the "Play" button. When the video is playing, you may take snapshoot when it plays to your favorable frame by clicking the "Snapshoot" button.
Step 2. Select output format- MKV, HD MKV etc.
The MXF Converter is capable of converting unprotected P2 MXF, MXF, DVCPRO MXF files to MKV, MP4, MOV, M4V, AVI and various other optimized formats for portable devices. Since we are converting MXF video to MKV, what you need is to click on the "Format" bar and select desired MKV format from the profile list.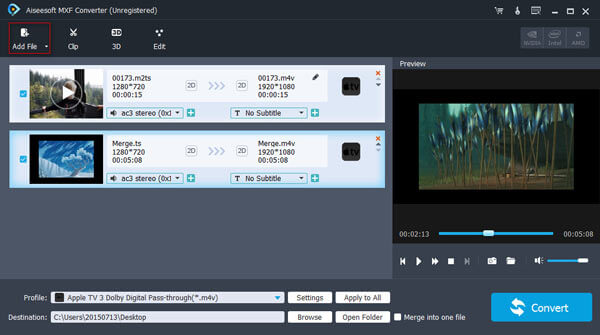 MXF Video Converter provides MKV formats with different codec. In order to save storage, you could follow "Common Video"-> "MKV Video" (*.MKV). If you are unwilling to degrade the HD MXF video quality, "HD Video"-> "MKV HD Video (*.MKV)" is a better choice for you. You may also customize video and audio parameters in Settings panel. Simply click "Settings" button to and set the bitrate, frame rate, channels, sampling rate as desired values.
Step 3: Adjust video and audio parameters.
The mxf to mkv converter allows users clicking "Settings" button to adjust video and audio parameters before creating a MKV from Panasonic MXF, so as to optimize the output file quality. The adjustable settings include codec, aspect ratio, bit rate, frame rate, sample rate, and audio channel. Basically the MXF is a typical HD video format with very high video and audio quality, normally in 16:9 aspect ratio. In order to avoid stretched image, you are advised to set 1920*1080 or 1280*720 as video size. But if you'd like to change the 16:9 video to 4:3 for standard definition conversion, choose 640*480 in the dropdown list of "Size".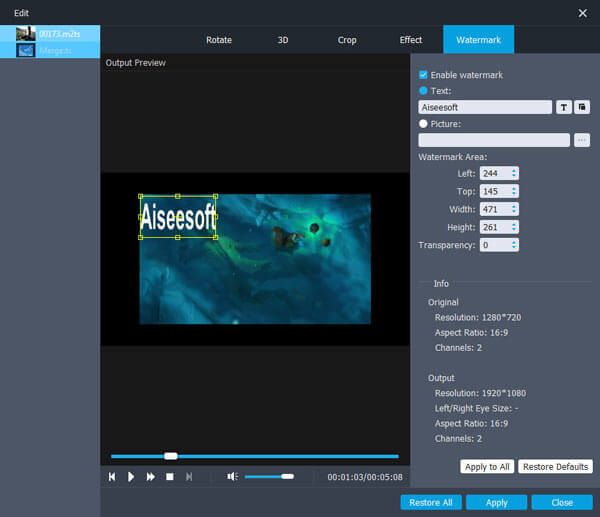 Step 4. Start converting MXF to MKV.
Click "Convert" to start converting MXF to MKV format when everything's ready. The HD MXF Video Converter supports batch conversion so you may load multiple MXF files and convert them to MKV at one time. You may also merge them to one file by checking the box "Merge into one file" before conversion starts. After conversion you may click "Open" button to find generated MKV files and use them freely.
Tip1: Footage shot by some camcorders may end up interlaced. Juggled edges and ghosting occurs when you preview the MXF files. In that case you can set deinterlace effect to eliminate the interlacing lines. Follow Edit->Effect->Deinterlacing.
Tip 2: The "Trim" facility allows you to cut out unwanted part from videos. To convert specific part of a Panasonic MXF file, you may click the "Edit" button, switch to "Trim" tab, type in desired time in 'Start' and 'End' box and click 'Set' button. Or you can click left square bracket and right square bracket to set start and end time when playing the video.