Ikegami MXF Converter for Mac, a smart MXFConverter that is designed for converting Ikegami 2D/3D MPEG-2 MXF files. With it, you can easily convert Ikegami MXF to MOV/M4V/AVI/MP4/WMV for playback on Mac with least quality loss. Also, the Ikegami MXF Converter is able to output well compatible videos for IOS, Android and Windows portable devices. Moreover, other formats for mainstream editing program are also well supported, such as Final Cut Pro, iMovie, Adobe Premiere Pro, Final Cut Express, Avid Media Composer…


We provided you the Windows version Ikegami MXF Video Converter. You can convert Ikegami MXF video to any video format on Windows XP/2003/Vista/Windows 7/Windows 8/Windows 8.1. It's specific on converting Ikegami MXF files to various video formats in sync and encoding them with preferred video codec for Avid, Premiere Pro, AE, Cyberlink PowerDirector, DaVinci Resolve, Magix Movie Edit Pro, Sony Vegas, Windows Movie Maker…
   Ikegami MXF Converter Features    
- Convert Ikegami MXF to any video format on Mac and Windows
- Convert Ikegami MXF for all editing software, such as FCP, iMovie, Premiere Pro etc
- Convert 2D Ikegami MXF to 3D video on Mac and Windows
- Edit Ikegami MXF on Mac and Windows
Supported Devices
HDTV Portable/EFP Camera: HDK-55, HDK-77EC2, HDK-79EC2, HDK-79GX, HDK-790GX, HDK-95C, HDK-97A, HDK-97ARRI, HDK-97C, HDK-970A
HDTV Camcorder: GFS-P10, GFS-V10, GFS-V10PL, HDS-V10
A. How to convert Ikegami MXF for FCP X?    
Apple ProRes MOV is a good format for Final Cut Pro (FCP X, FCP 7, FCP 6, FCP 10.1) editing, so we can convert Ikegami MPEG-2 MXF to ProRes MOV for FCP on Mac.
1: Add Ikegami MXF into this program.
2: Choose Apple ProRes MOV as output video format.
3: Click convert button to start Ikegami MXF to FCP X MOV conversion on Mac.

B.How to import Ikegami MXF into iMovie?   
For editing Ikegami MXF files in iMovie 13/11/9/7, you need to convert Ikegami MXF to Apple Intermediate Codec MOV. Ikegami MXF to iMovie Converter will give you a hand.
1: Load Ikegami MXF from camcorder or computer.
2: Move your Mouse to format bar, choose iMovie Video (AVI) MOV as output format.
3: Begin Ikegami MXF to AIC MOV conversion for iMovie 13/11/9/7…
C.How to convert Ikegami MXF for Premiere Pro CS5/CS6/CC?    
Adobe Premiere Pro supported MPEG-2 MPG/H.264 MOV/WMV-3 WMV well, so we can convert Ikegami MXF to MPG/MOV/WMV for Premiere Pro CC, CS4, CS5, CS5.5 and CS6.
1: Import Ikegami MXF into Ikegami MXF Converter.
2: Click format bar to choose Premiere Pro best video format under "Editing Software" category.
3: Start Ikegami MXF to Premiere Pro conversion on Mac or Windows.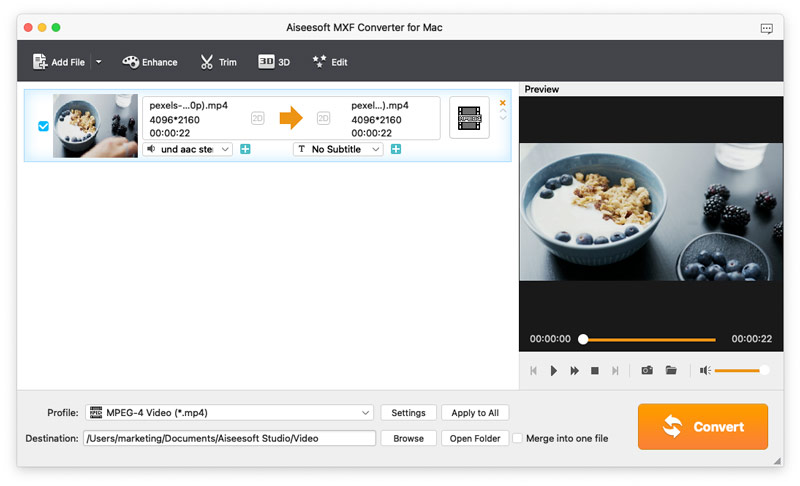 Tip : If you want to change the output format parameters, simply click the Settings button. In the pop-up window, you can customize the video resolution, frame rate, bit rate, encoder and more. For trining the Ikegami MXF video, you can click "Edit" icon to do the job.
If you like playing Ikegami footage on HDTV/Smart TV, Ikegami MXF Video Converter can help you convert Ikegami MXF to your TV supported video format with height quality.